Highlights from some of the week's top ethics news stories.
Environment
The first arrest has been made in relation to the 2010 BP oil spill. Kurt Mix of Katy, Texas is a former BP engineer who stands accused of obstruction of justice on two counts. He allegedly deleted numerous text messages and other electronic records between himself and a supervisor. The messages were related to the capping of the leak in October 2010. Mix was involved in a few unsuccessful attempts to cap the leak in 2010. The information he shared in text messages countered the positive messages that BP was sending out about progress in managing the disaster.
read more......BBC News - BP Oil Spill: First Criminal Charges Filed in US
read more.......USA Today - Gulf Spill: Ex-BP Engineer Indicted on Obstruction Charges
Source: U.S. Coast Guard
World Politics
This week, thousands of Armenians around the world gathered for the annual remembrance of the WWI massacre of Armenians by Ottoman Turks. Armenians are urging other nations to recognize the massacre, which took nearly 1.5 million lives, as a genocide. Although Obama made the promise to fulfill the Armenian's wishes, he still hasn't done so. France, on the other hand, has banned Armenian genocide denial.
read more about Obama's stance....
ABC News - Obama Again Breaks Promise to Commemorate Armenian 'Genocide'
read more about French legislation......Guardian UK - Armenian Genocide Denial to be Banned in France
Justice
The Trayvon Martin case has been in the national and international spotlight since February. There are critical updates
coming out every week. This week George Zimmerman, who is charged with second-degree murder, walked out on a $150,000 bail. The verdict continues to spark controversy across the country. One of the main issues that has come to the fore because of this case is gun control.
read more......NYT - George Zimmerman Released After Posting Bail
read more about the gun control issue.....The Wall Street Journal - White House Efforts to Relax Gun Exports Face Resistance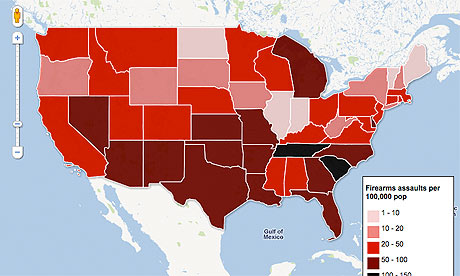 Gun Crime Map of America, Source: Guardian UK
Health & Science
A new study substantiates the theory that people who have expressed sentiments of homophobia are in fact repressing homosexual urges. Study author Richard M. Ryan of the University of Rochester and fellow researchers conducted six studies on hundreds of university students. The experiment was composed of a series of questions that judged the attitude of the students towards homosexuality. They also tested whether or not the students had sub-conscious attractions to people of the same sex. They found that students who came from the most rigid homes, where anti-gay sentiments were encouraged, were the most likely to reveal homosexual repression.
read more......The New York Times - Homophobic? Maybe You're Gay